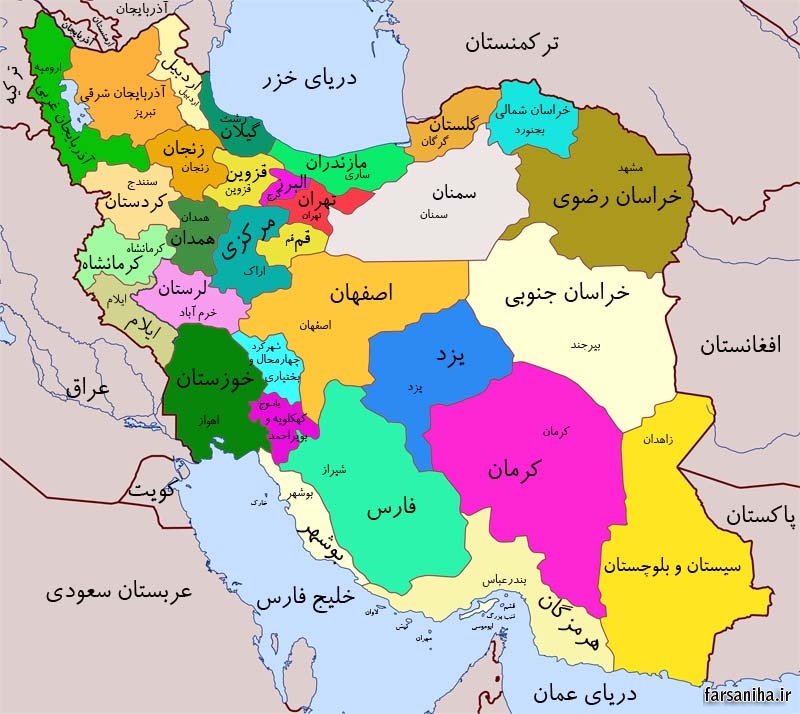 Ethnic minorities:
Iran is a country that is composed of various ethnic groups. The following are some of the most tribes. It should be noted that these ethnic groups are divided in some branches.
Persians
More than 65% of the inhabitants of Iran are Fars (Persia). They are the descendants Elamite and Aryan races who settled in the second millennium BC in the central plateau and chose "Pars (Persia)" for Iran. Iranian persians are combination of different tribes of ancient Iran. Persian language exists, in addition to Iran, Afghanistan, Tajikistan, Samarqand in Uzbekistan. Iranian Persian percentage has increased to an excessive degree.
Farsi speakers Distribution in Iran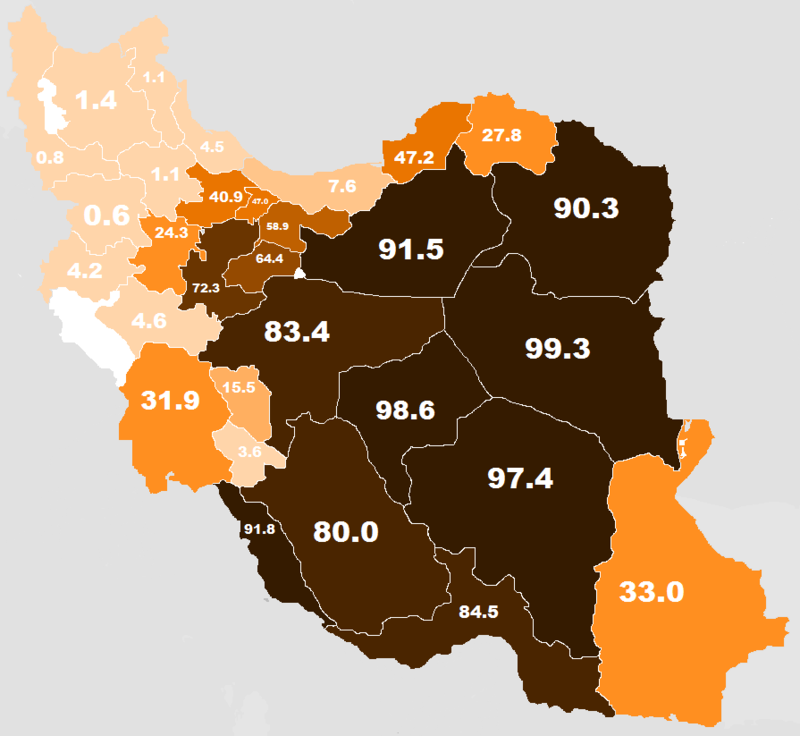 Turkmens
Turkmen are Turks. The Turkmen people, primarily live in the area (plain located in East and North Khorasan province bordering Turkmenistan). Historically the result of an agreement signed between Iran and the former Soviet Union, determine the international border by the rulers of Iran and Russia and a large number of Turkmens remained inside Iranian border. The contract "Atrak River" were determined as the border between the two countries.
Kurds
Kurds are one of the ethnic groups in the Middle East, West Asia and live in the western part of the Iranian plateau. Kurds speak Kurdish language, the western branch of Iranian languages spoken by most Kurds in Kurdistan (Turkey, Iran, Iraq and Syria). The semi-official literary language taught at schools divided into two parts since British the occupation of English in Iraq:
North Kurmanji or so-called Kurmanji
South Kurmanji or so-called Sorani
North Kurmanji is dialect of northern Khorasan Kurdish, Iran-Turkey border area, eastern Anatolia and northern Iraq. In terms of population, most Kurds speak with one of accents mentioned abow. Other Zaza dialect of Kurdish dialects are spoken in a small part of Turkish Kurdistan and Avram idioms, Ilam, Kermanshah, Kalhor, Koliaie, Pyrvndy, Laki, Phili(or Pehlivan) that are spoken in Iranian Kurdistan. The religion of the majority Kurds is Islam(and Sunni). In Kermanshah, Ilam and Lorestan, Iran's majority Shiie population lives. Of course, the Kurds are nearly 50 thousand households. In addition, this group also known as Ahl-e Haq Yarsanya series between the Kurds and the rest are Kurds, Christians or Jews.
Kurds Distribution in Iran
Baluchis
Baluch is one of ethnics in Iran and the Middle East, Pakistan and Afghanistan. Baluch people live in southeastern Iran and East Pakistan. Balochi language is one of the Northwest branch of the Iranian languages. Baluchis, whose name means being displaced, is one of the few Iranian ethnic groups that largely have retained their semi-nomadic life style. Vast deserts with low population icluding southeastern Iran and West Pakistan's recluse areas are Baluches habitat. Baluchis are skilled and agile riders and their camel-riding matches is famous.
Baluchis Distribution in Iran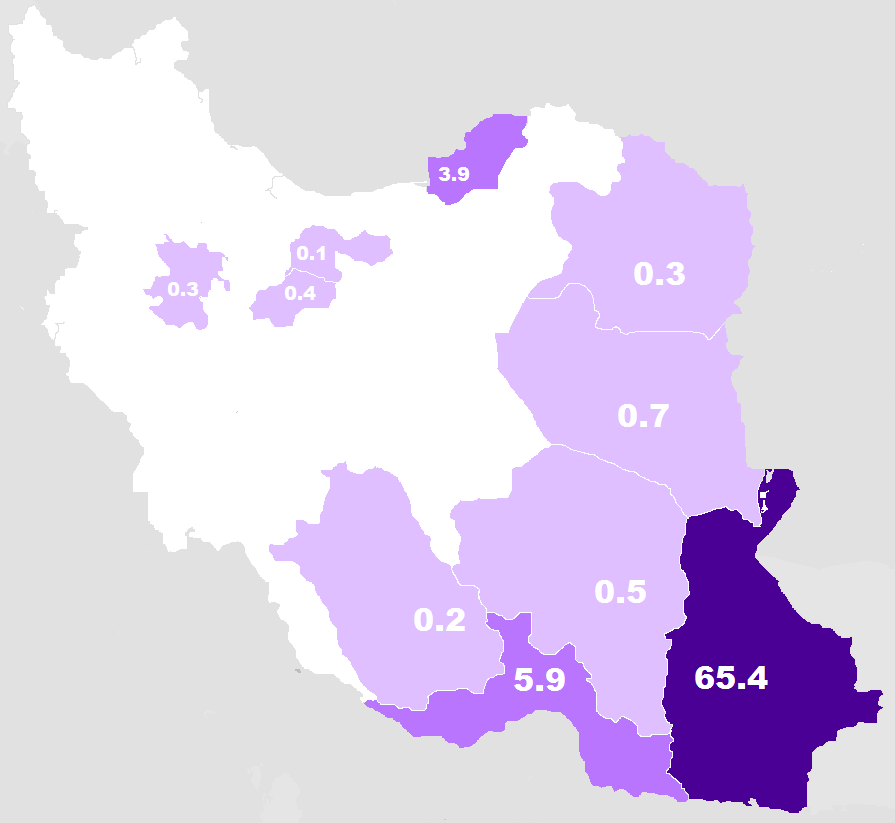 The Bakhtiaris
One of the great nations of Iran is Bakhtiari, known as great Lor, that reside in the central Zagros. (Almost the small Lor are residents of Lorestan and Ilam). Recluse regions of Chaharmahal and Bakhtiari and Khuzestan is home to most bakhtiari people. But today a great number of them have settled in towns and villages. Bakhtiari dialect is one of the south-western Iranian languages. Persian language dialects include Persian, Lori, Bakhtiari, Lârestâni, and Kvmzary. Some linguists consider Bakhtiari as sub-branch of Lori, and some others consider it as a separate branch.
Qashqais
Ghashghai is one of the two major tribes of Iran(the Bakhtiari tribe is large.) Most Qashqaees reside in the Fars province. Many of them still migrate from Summer pastures to winter quarters in different seasons. Qashqaees are Turk. One of the tribal areas in Iran is Fars Province, and the largest tribe in Iran (Qashqaees) with six tribes keep migrating in Fars province. In addition to Qashqaees, Khamse tirbe and Mohseni Tribe and also smaller tribes continue to nomadic life in this province. Qashqai tribe is one of the most important tribes of Turk in Iran. Qashqaees gradually migrated to this land and are living in it during different periods .
Study of nomadic tribes in Iran indicates that Turkic-speaking tribes are scattered throughout Iran. This is especially intensified with the Seljuks, Mongols, Timurid and Safavid. Qashqaees are Shia and interested in their customs. Ghashghai Turkish is mixed with Persian language and they all know Farsi well and speak it easily. population of Ghashghai tribe is nearly 30 thousand households, ie 150 thousand.
Lors
Lors are from Aryan race mixed with kashi or Kasit tribe. Throughout history, groups of Arabs and Turks got racial mixing with Lors, but a total of ethnicities has remained intact. Lors that constitute two percent of our population, mainly settle in Lorestan and Kermanshah and Hamadan provinces.
Lors dispersion in Iran
Arabs
About 4% (two and a half million people) of the population are Arabs, most of them settled in Khouzestan province and Persian Gulf islands. Most Arabs in Iran still speak Arabic. Arabs' migration to Khuzestan began before Islamic and during Sassanian period. Today, the population of the Arabs of Khuzestanare is in the minority in comparison with Persian-speaking (Baḵtīārīs, Shushtar and Dezfulian).
Arabs dispersion in Iran
Azeri
Azerbaijan is the name of the geographical area in North West Iran, including West Azerbaijan, East Azerbaijan and Ardabil provinces. These are the main settlement area for Azeris in Iran. Turks and Azeris are the largest minority in Iran, constituting 25% of the population of Iran. Although many of the Turks live in the provinces of East Azarbaijan, West Azarbaijan and Ardebil but a large number of them live in other provinces of the country.
Azeris dispersion in Iran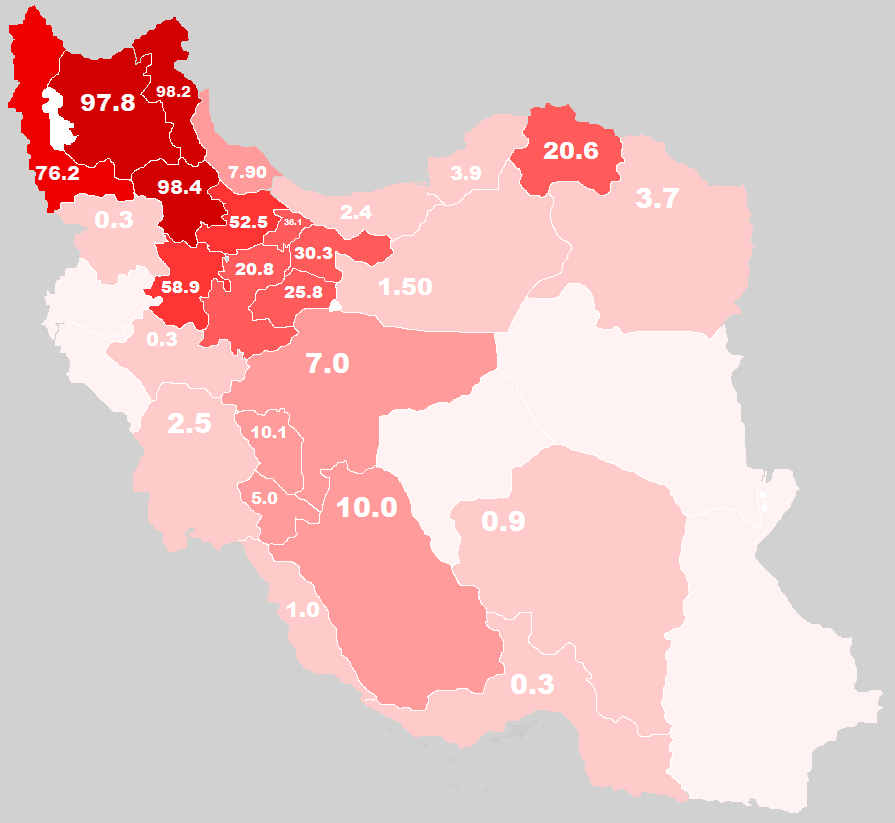 Armenians and Jews
Armenians and Jews live in different cities of Iran. A large number of Armenians live in Tehran and Isfahan. Iranian Jews have 2,500 years antiquity. But after 1357 a small number of them remained in Iran, mainly in Tehran, Hamedan, Isfahan and Shiraz.
Assyrian
Based on available evidence, Assyrians have lived for centuries in Iran, but the exact date of their arrival in Iran can not be identified. In general it can be said that Assyrians settlement in Iran has been intertwined with the history of this land. The fact is that after the fall of the Assyrian Empire in Mesopotamia, they become part of the Iranian nation and have a common destiny with people of this country.
Assyrians are divided into different denominations. Assyrian Church of the East Assyrian religious denominations are the Catholic Church (Chaldean Assyrian), the Assyrian Evangelical Church, the Assyrian Church of the Brethren congregation of God (Pentecostal). Now the Assyrian language is taught in private Assyrians schools of Iran and the establishment of religious ceremonies is free and done in Assyrian quad churches under Iran's constitution. Iranian Assyrians also has a representative in Parliament that have the same powers as other 290 representatives.
References
1. The website of the Statistical Center of Iran
2. Iranology, regulation of health culture, site of IRAS, 14 Esfand 1385
3. Geographical Atlantic provinces of Iran, Tehran, geographical institute, 1383
4. National statistical portal
5. The Islamic Republic News Agency (IRNA)
6. tebyan website.